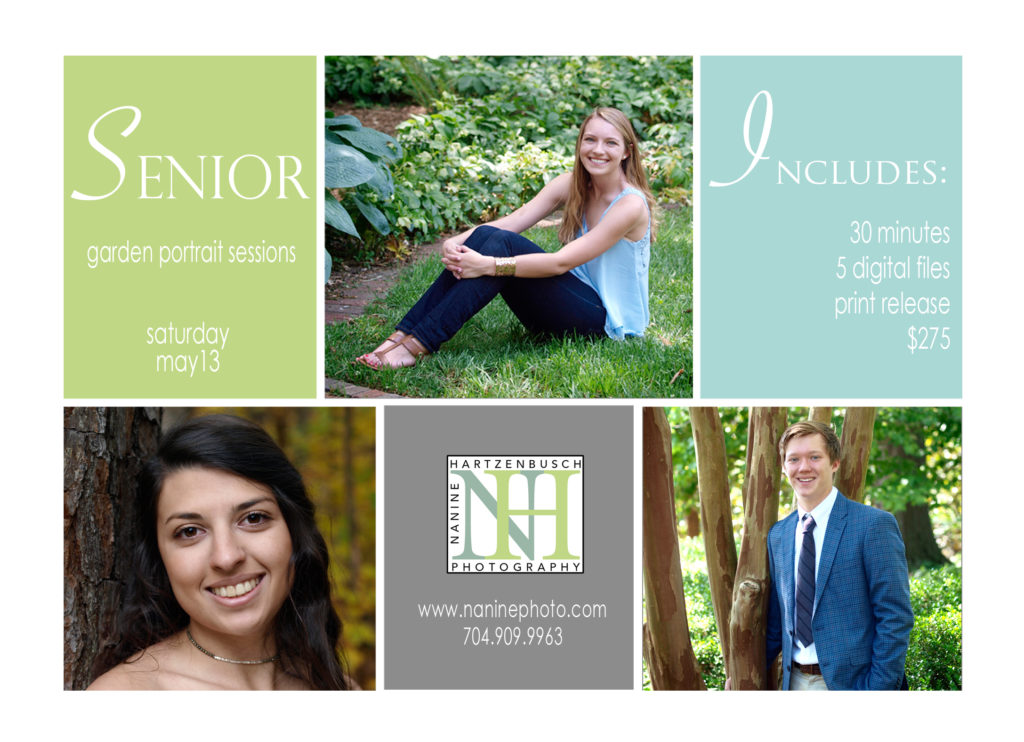 It's not too late for Senior portraits, just in time for graduation! As a special offer to celebrate our Seniors, I'll be photographing my Simplicity Senior Portrait sessions on Saturday, May 13. Eight appointments  will be made available on a first come, first served basis:
10:00 am, 10:45 am, 11:30 am, 12:15 pm, 2 pm, 2:45 pm, 3:30 pm and 4:15 pm.
Please contact me at 704.909.9963 or nanine@naninephoto.com  to book your time with me.
Please SHARE this blog post to those you think might be interested in a Senior Simplicity Portrait Session.
Thank you!!
 Here are the details:
Saturday May 13
Location – My South Park Garden
Session lasts 30 minutes
5 Digital images of your choice on flash drive
15-20 proofs shown
One Senior per session
$275 per session
Nanine has 25+ years experience as a photojournalist, family portrait and corporate photographer. She was part of the New York Newsday team awarded the Pulitzer Prize for Spot News Reporting in 1992. Her clients include The New York Times, The Washington Post, South Park Magazine, The Charlotte Observer, PNC Bank, Cooking Light, Organic Gardening, Franklin & Marshall College, Lehigh University, Haverford College and many prominent Charlotte and Washington DC area families. Nanine teaches Photojournalism at the Knight School of Communication, Queens University, and Photography workshops. She donates her photographic & design services to the MACS Education Foundation, Charity League, The Lunch Project and the Mental Health Association of the Carolinas.